Workshop 1
26 June 2017
Time: 09:25 – 17:30
Log Optimal Growth & Kelly Strategy
Background
The concepts underlying gambling and risk aversion are very much in the mainstream of betting, daily trading in the markets and growth of capital. The basic theory was introduced by the Bernoulli family of mathematicians as early as the 1700s. In recent times, dedicated researchers – successful and committed traders and gamblers –such as Thorp, Shannon, Kelly and Ziemba, have refined the theory through academic rigour; they have also field-tested the strategies in betting venues and financial markets.
This workshop sets out to explain why Log Optimal Growth & Kelly Strategy has become mainstream and is accepted as the foundation of winning strategies for betting and trading. As the saying goes, "All you need is an edge": so follow the maths and you will win.
Workshop Presenters include:
Leonard MacLean, Dalhousie University, Canada
Gautam Mitra, OptiRisk Systems; UCL
M.A.H. Dempster, Cambridge Systems Associates; University of Cambridge
Sebastien Lleo, Associate Professor of Finance and Director of doctoral program at NEOMA Business School – Reims Campus, France
OBJECTIVES AND LEARNING OUTCOMES
Objectives of the Workshop:
Aims of the workshop are to introduce to the attendees models of Log (optimal) growth in a dynamical (temporal) setting of asset allocation decisions.
Learning Outcomes of the Workshop:
By attending the and interacting with the subject experts the participants will learn the following.
(i) Understand how principles of scientific gambling and betting can be applied to create successful trading strategies
(ii) The participants will also learn the importance of harnessing volatility of assets to construct strategies which enhance 'alpha'
All presentations 45 minutes + 15 minutes' questions
Workshop 2
27 June 2017
Time: 09:25 – 16:30
Sentiment Extraction and Applications for Financial Prediction
Background
Extracting sentiment out of text-based information sources is both an art and a science. Diverse information sources such as corporate filings, macroeconomic announcements, as well as extreme events such as natural disasters, war and political turmoil, all lead to significant impacts on the financial and retail consumer markets. In this workshop both extraction of information and sentiment and predictive models which utilise this information and sentiment are analysed and discussed.
Workshop Presenters include:
Ashok Banerjee, IIM Calcutta, India
Sanjiv Das, Santa Clara University, USA
All presentations 45 minutes + 15 minutes' question and answer sessions.
Workshop 3
30 June 2017
Time: 09:25 – 14:30
Novel Data Sources and Contents for Financial Markets
Background
In the last 20 years, society has experienced a major paradigm shift in communication. More than 2 billion people use mobile devices and constantly communicate what they see and think on social media. By using advanced sentiment analysis and deep learning, it is possible to mine these sources. Leading research teams have embarked upon ways to extract and exploit information from these multiple information streams. These workshops provide a glimpse of the revolutionary developments which are afoot in this domain.
Workshop Presenters include:
Salman Jaffer, Head of Data Science Team, Sentifi LLC
Satoshi Shizume, Financial Technology Research Institute
Elisabetta Fersini, University of Milano-Bicocca Italy

All presentations 50/60 minutes + 10/20 minutes' question and answer session.
Price for the Workshops
Super Early Bird: £175 + VAT per day until 28 April
Early Bird: £250 + VAT per day until 19 May
Standard Price: £325 + VAT per day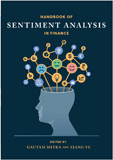 Receive a complimentary copy of the landmark publication Handbook of Sentiment Analysis in Finance (pub 2016) when you register for the workshop on 30 June!
The Handbook is priced at £95 but is free to attendees at the workshop on 30 June.

There are preferential rates for academics, students and also combined price with conference, please contact aqeela@unicom.co.uk