AI, Machine Learning and Sentiment Analysis Applied to Finance, London, 28 – 29 June 2017, Millennium Hotel London Mayfair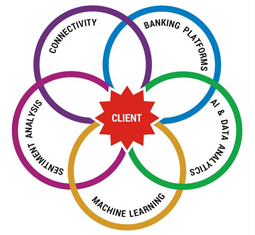 Artificial Intelligence, Machine Learning and Sentiment Analysis are changing the way in which numerous client services are offered. In particular, Financial Organisations are creating and leveraging such innovation in the domain of wealth management. This trend is now being taken on board by multiple innovators: academia, start-ups, technology companies and financial market participants.
AI and Machine Learning have emerged as a central aspect of analytics which is applied to multiple domains. AI and Machine Learning, Pattern classifiers and natural language processing (NLP) underpin Sentiment Analysis (SA); SA is a technology that makes rapid assessment of the sentiments expressed in news releases as well as other media sources such as Twitter and blogs.
The conference addresses and explains how to extract sentiment from these multiple sources of information and showcases the advances that have taken place in the field of financial innovation. The focus is on the latest research and includes presentations by leading subject experts from all over the world, as well as a number of applications/case studies.
Topics Covered Include:
Pattern classifiers, NLP and AI applied to data, text, and multi-media
Sentiment scores combined with neo-classical models of finance
Financial analytics underpinned by qualitative and quantitative methods
Predictive and normative analysis applied to finance
Applications in Financial Markets
This program qualifies for 14 GARP CPD credit hours. If you are a certified Financial Risk Manager (FRM®), please record this activity in your Credit Tracker.

Use the coupon code "SA443" when booking.
Super Early Bird until 28 April - £225
Early Bird until 19 May - £350
Standard Rate - £500
Super Early Bird until 28 April - £595
Early Bird until 19 May - £695
Standard Rate - £795
For combined price of the conference attendance and the workshop/workshops, please email to info@unicom.co.uk