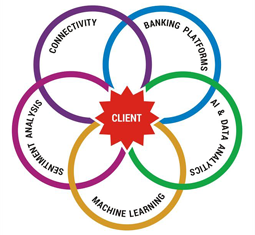 Technology innovations meet greatest success in business when these are entirely 'client focussed'. Developments in the retail sector, which is consumer-led, are addressing client demand for more personalised, faster and competitive services. Artificial Intelligence, Machine Learning and Sentiment Analysis are changing the way in which these services are offered. In particular Financial Organisations are creating and leveraging such innovation in the domain of wealth management. This trend is now being taken on board by multiple innovators: academia, start-ups, technology companies and financial market participants.
Sentiment Analysis (SA) is a technology that makes rapid assessment of the sentiments expressed in news releases as well as other media sources such as Twitter and blogs. This conference addresses and explains how to extract sentiment from the multiple sources of information and showcases the advances that have taken place in the field of financial innovation, as well as new applications in the domain of Retail and Consumer Marketing.
Event Format:
Day 1
Day 2
Consumer Markets Stream
Consumer Markets – Research & Academic Focus


[Cnm – Res]

Consumer Markets – Industry Focus


[Cnm – Ind]

Financial Markets Stream
Financial Markets – Industry Focus


[Fin – Ind]

Financial Markets – Research & Academic Focus


[Fin – Res]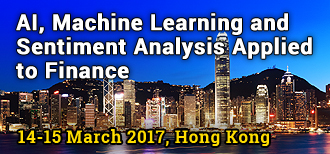 Partner
The conference is being organised in collaboration with partner organisations that have considerable experience in the field and bring new insights and interested parties to the table. In Bangalore, the partner is the well-respected Indian Institute of Management (IIM) Calcutta which is home to the Financial Research & Trading Lab, Indian Institute of Management (IIM) Bangalore.
Location
After the great success of the London and Singapore events, we are now bringing the conference to Bangalore[Bengaluru]. Bangalore[Bengaluru] is often referred to as the "Silicon Valley of India" (or "IT capital of India") because of its role as the nation's leading IT exporter. So this makes it a highly appropriate venue with access to a large pool of qualified and enthusiastic professionals.
Topics to be covered include:
♦ Pattern classifiers, NLP and AI applied to data, text and multi-media
♦ Sentiment scores combined with neo-classical – models of finance
♦ Financial analytics underpinned by qualitative and quantitative methods
♦ Predictive and normative analysis applied to finance
♦ Applications in Financial Markets
♦ Applications in Retail and Consumer Markets.