Rosemarije Noordzij
Wemanity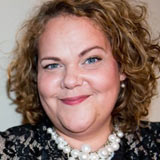 Rose is the Agile Transformation Lead at DELTA for Wemanity. She is a pragmatic Agilist, who strives to help organizations to become Agile. In her role she combines her knowledge of organisational structures with discipline and a human and direct approach. She uses her knowledge of the Agile Stack and group dynamics to help organizations realise an Agile solution that works for them. Since November 2015 she has been the lead consultant for DELTA, and from day one she helped DELTA to become Agile in a structured and gradual process.
"At DELTA we've had a lot of results from the first couple of weeks, and those results are growing rapidly. We started measuring progress from the beginning, so there is a lot of knowledge we can share. But personally I'm a fan of our lessons learned. We've learned so much together and I hope we've created a platform for continuous learning."
Born and raised in Utrecht in the centre of The Netherlands, she calls herself lucky to have always been in a loving and supportive environment. Her parents both being teachers, she was always stimulated to explore all the options. This life lesson benefits her to this day: 'Nothing is impossible, you just haven't found the right way yet…' Rose holds an MSc in Clinical Psychology and a BSc in Journalism.
At DELTA we started our transformation to working in an Agile way in late 2015. In the past few months we have made a lot of big changes in our organisation. Our goal is to create maximum customer value, in order to exceed customer expectations with our products.
One of the biggest challenges is our 'not so visible' product. We sell utilities and the only time we are visible is when our customers lose connectivity. Working in an Agile way has given us many benefits, both for our organisation and for our customers. From the moment we started transforming we measured our progress and the benefits derived from Agile.
The biggest benefit is how we changed our decision process and started working from the perspective of value for the customer. All the business choices we make now start with the question, 'how does this benefit our customer?'
We would like to share our insights and our lessons learned with you.