Astrid Claessen
Raise Our Level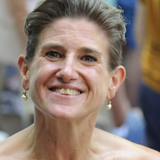 I have always looked around me and saw things that could be improved upon (some would call that: being a perfectionist). That is why continuous improvement resonates with me so strongly. With experience in almost every role available in software development I'm able to understand the challenges teams face when dancing with uncertainty. Using that understanding I can help them overcome obstacles on their way.
Experience working abroad in: India, Mozambique, Rwanda, Tanzania, Hong Kong and China. This helps me understand more of the cultural aspect, which is a big part of any Agile transformation.
I've learned that two elements are crucial to any successful transformation: pull and courage. We need the courage to face reality and look at our own contribution to the problems we are encountering. And we need to stop "implementing" frameworks and practices. We need to invite people to participate in the change initiative and let them decide about the "how".